1919 War Hero Memorial Pinery
---
| | | |
| --- | --- | --- |
| | | In 1919 the Bloomsburg State Normal School decided to remember its former students who died serving their country in the First World War. They felt so strongly about this they created a living memorial to these individuals. It consisted of white pine trees, each one representing one of the students. On Memorial Day, May 30, 1919, the Dedication Ceremony was held. Three years later a boulder was placed at the site with a marble tablet showing each tree and the student it represented. |
On Armistice Day in 1924 a third ceremony was held to dedicate the bronze tablet that is still on the boulder. In 1930 Bloomsburg's first Dean of Instruction, William B. Sutliff, wrote a poem to honor the memorial. Even now, more than 80 years later and with all that has happened to it, the Pinery remembers those who sacrificed their lives for their country.
The April 25, 2003 ReDedication Ceremony
The Bloomsburg University History Department is continuing to raise funds to complete the restoration of the Pinery as closely as possible to the way it looked in 1924, and to build a reserve to maintain the Memorial in the future. This is an effort by the students of the present honoring those who have gone before. Checks should be made out to: BU Foundation - War Memorial Pinery, and sent to the BU Foundation at the Development Center, Bloomsburg University, 400 East Second Street, Bloomsburg, PA 17815. For any questions on the fundraising efforts please contact Dr. Nancy Gentile Ford at ford@bloomu.edu.
Views of the Memorial Pinery over the Years
Aerial Views of the Campus in 1946 and 1968
The Bronze Tablet listing the 16 Memorialized Students
Click on a name to bring up information on that student, or go to an Alphabetical List.
Research is ongoing, and more information and photographs will be added as they become available.

Corrections have also been made to what is on the tablet with regard to the spelling of names
and the dates the students attended the Bloomsburg State Normal School.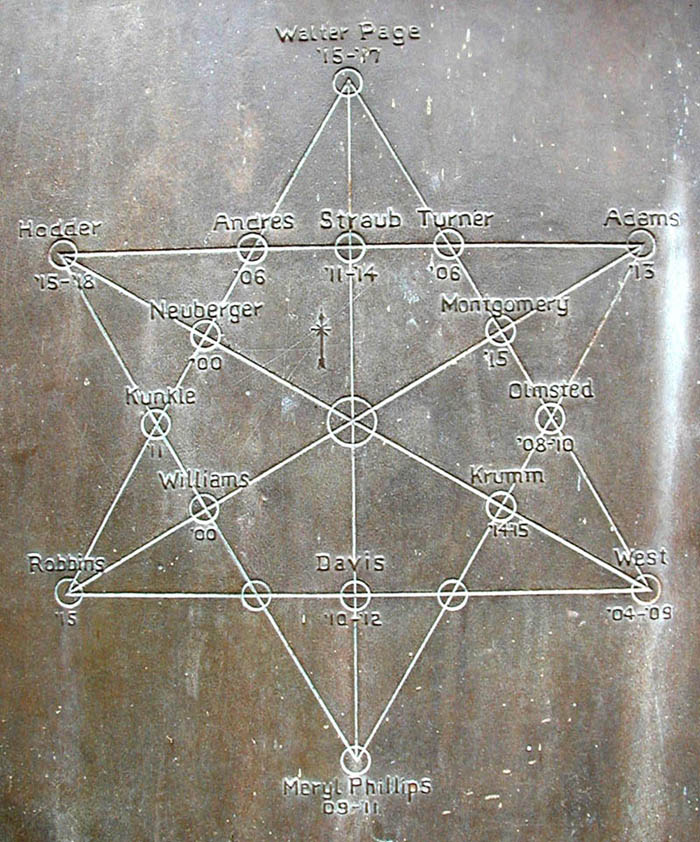 ---
Created by Robert Dunkelberger, Bloomsburg University Archivist


Please send comments on the Memorial Pinery exhibit to rdunkelb@bloomu.edu.
Updated 2/22/06