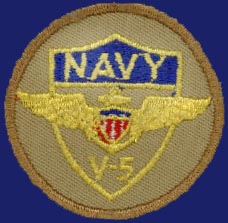 The Navy V-5s at the Bloomsburg State Teachers College
During World War II every sector of American society contributed to the war effort, including the colleges and universities of the nation. The Bloomsburg State Teachers College was no exception to this, but instead held an exceptional honor as one of five colleges in the nation that served as a Naval Flight Instructor School under the Navy's V-5 cadet training program. Bloomsburg received this honor due to the schools involvement in the Civilian Pilot Training program that trained civilian pilots for both academic and private purposes and also for military flight. The schools involvement and support of the Bloomsburg Airport helped greatly in establishing Bloomsburg as a top CPT school in the East. The faculty at Bloomsburg played a significant part in securing the contract for the program, especially President Harvey A. Andruss and Dean of Students, John C. Koch. Both men were adamant supporters of air travel and saw it as a major part of society in the future and believed that flight training would begin at the high school level. President Andruss also saw the V-5 program and later the Navy's V-12 Officer Training Program as a way to bring in much needed income to the school and keep it open during the war years when the state colleges were in danger of closing down due to low attendance and lack of funds. The local airport, the dedication of the faculty to the future of flight and the drive of President Andruss to keep the Bloomsburg State Teachers College open helped secure the V-5 program that proved to be beneficial to the college, the town of Bloomsburg and ultimately to the United States war effort during World War II.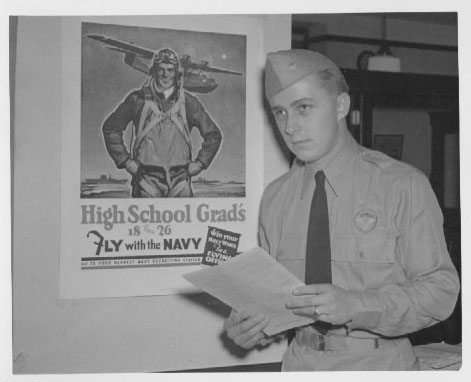 Unknown Cadet in front of a recruiting poster September 1942.
The program officially started in March of 1942 with two levels of training taking place at Bloomsburg before the cadets were shipped off to more advanced training facilities in Corpus Christi Fl., Chapel Hill NC. and Dallas Tx. The cadets trained here at Bloomsburg in elementary and secondary programs and usually had some sort of previous flight experience. The cadets that were not accepted for further flight instructors training had the chance to be sent to other flight school for combat, glider or other flight training. The Naval flight instructors training continued at Bloomsburg until November of 1943. After November 1943 the V-5 program continued training cadets in preparation for more training at Naval bases for combat, glider and other pilot training until July of 1944 when the V-5 program was cancelled at almost all schools due to an over abundance of trained pilots in service.
The following is an exhibit and brief history of the Navy's V-5 program at Bloomsburg. The exhibit contains photographs and documents from the collections found in the Universities Archives.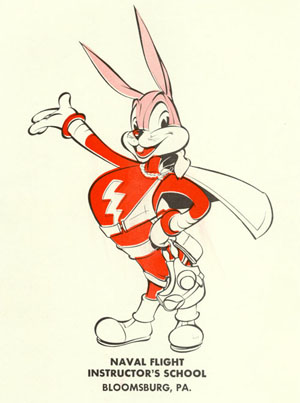 The Aviation Cadets of the BSTC
---
Created in 2006 by Willard Cilvik, Bloomsburg University Archives Intern


Please send comments on the Navy V-5 exhibit to University Archivist Robert Dunkelberger
Updated 3/8/07