David Owen Williams
Scranton, Lackawanna County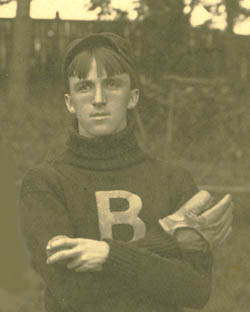 February 7, 1880 - April 25, 1918
---
David Williams was from Scranton, the child of Welsh immigrants, and entered the Bloomsburg State Normal School in January of 1898 at the age of 17. He graduated on June 27, 1900 with a degree in the elementary course, and stayed an additional year as a resident graduate, taking more courses. This also allowed him to play another season of baseball, a sport at which he excelled. While in school Williams was the star pitcher on the baseball team, acknowledged years later as one of the best players in school history.
After graduating from Bloomsburg he went on to pitch for State College, in 1903 for the Boston Americans (now the Red Sox) in the American League, and in 1905 Altoona in the Tristate League, where he suffered an arm injury. In 1907 he left Pennsylvania for good and headed west, first as manager and captain of the Sioux City, Iowa team in the Western League, and the following year as manager of the Duluth, Minnesota entry in the Northern League. His final stop as a ballplayer was in Hibbing, Minnesota, where he pitched and played first base. Following his baseball career Williams went to work in the ore mines at Duluth and in 1915 joined the state militia (Company M of the 3rd Minnesota). By 1918 he had become a captain in the infantry (151st Field Artillery, Battery B), but in April of that year contracted pneumonia at Camp Cody in Deming, New Mexico, and died on April 25 at the Army and Navy hospital in Hot Springs, Arkansas. His wife and two sisters were with him when he passed away.
David Williams was brought back to his hometown of Scranton, and his funeral held at the home of his father, Thomas Williams, at 1137 Rock Street, on Tuesday, April 30, 1918. Following the service he was taken to Dunmore Cemetery was he was laid to rest with full military and Masonic honors. It was a fitting tribute to a man held in high esteem for both his skills as an athlete and leadership as a soldier.
---
Back to Student List
Updated 3/1/07