John Ray Kunkel
Kulp, Columbia County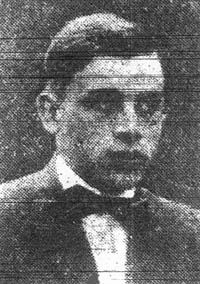 December 9, 1889 - February 3, 1918
---
John Ray Kunkel was born December 9, 1889, the son of Jere and Mary M. Kunkel, of Kulp, near Catawissa. He entered the Bloomsburg State Normal School in 1908, and graduated with a degree in the regular course on June 28, 1911. Following graduation he taught school, including one term as assistant principal of Locust Township High School, and for one year principal of a high school in McKean County, but he gave up that position because it was so far from home and his parents. Prior to entering military service he was a teacher at Houck School in Roaringcreek Township. He had a bright and promising career ahead of him, and was especially fond of United States history, in particular the Civil War. He could readily describe the battles, names of commanders, and give the results of all the great campaigns.
When Kunkel first entered the U. S. Army in October of 1917 he was stationed at Camp Meade, Maryland. In November he sought an exemption from serving because of his parents, who were dependent on him as their only child and in need of his support, as his father was over 60 years old at the time. But the claim was eventually denied, and he was sent to Camp Greene, North Carolina as part of Company E, 39th Infantry Regiment. He sent letters home to his parents stating that he was enjoying army life, but in January, 1918 he became ill, and underwent an operation on February 1. He was dead of empyema (a buildup of fluid in the lungs) and measles two days later, at the age of 28. His body was brought back to Kulp, and the funeral was held on February 8 at the Methodist Episcopal Church. The building was too small to hold all of the friends who had gathered to honor Kunkel's memory. As the officiating pastor stated, "the man who gave his life for his country, even though he died from natural causes, was a hero just the same as the man who was killed on the field of action." He was then taken to Creveling Cemetery in Columbia County, where he was buried.
John Ray Kunkel was twice honored with a living memorial. In addition to his place in the Memorial Pinery, a tree to remember him was planted near the Kulp High School building, during a service led by both elementary and high school students. His parents had lost their only child, and the "War to End All Wars" had claimed another victim.
---
Back to Student List
Updated 3/28/03