Howard Earl Krum
Danville, Montour County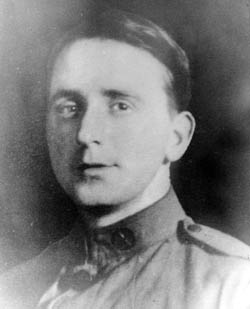 September 15, 1896 - October 21, 1918
Special thanks to American Legion Post 40, Danville, PA, for providing the photograph.
---
Howard Earl Krum was born September 15, 1896, the son of William I. and Harriet Krum. He was from the Danville area near Grovania, and entered the Bloomsburg State Normal School in September of 1912, just before his 16th birthday. He graduated with a degree in the commercial course on June 27, 1915, and for two years taught school in Cooper Township.
He entered the military as a private and was stationed with Company G at Camp Lee, Virginia. In early October of 1918 he was one of many who contracted influenza, and was ill for more than two weeks. He became critical and was visited by his two brothers, Theodore and Arnold. When they arrived he was ill with pneumonia, but began to show some improvement. They left on Friday, October 18, but found out the following Monday he had passed away. Howard Krum returned to Grovania one final time, and his funeral was held on Saturday, October 26 at his parent's home. It was attended by many family and friends, and he was buried in Lazarus Cemetery in Cooper Township, Montour County.
---
Back to Student List
Updated 9/10/03