John Henry Hodder
Wilkes-Barre, Luzerne County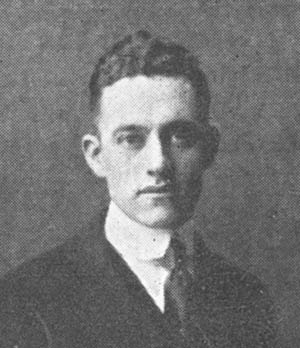 March 27, 1892 - February 27, 1919
---
John Henry "Jack" Hodder was born on March 27, 1892, and enrolled at the Bloomsburg State Normal School in March of 1915. He was an excellent athlete, and during his time in school played center on both the football and basketball teams, serving as captain of the latter in 1917, as well as a star pitcher in baseball. He was president of the class of 1920, a member of the Calliepian Literary Society, and the Kappa Delta Phi fraternity. He participated in a Halloween masquerade in 1917, and four days later left school to join the navy. Hodder enlisted as a machinist's mate 2nd class on December 11, 1917, and was involved in convoy duty aboard the U.S.S. Seattle. He traveled across the Atlantic to France seven times, and was promoted to machinist's mate 1st class on September 5, 1918.
John Hodder was honorably discharged on February 15, 1919, and returned to Scranton and his wife Florence. But in a sad twist of fate he became ill with pneumonia and died twelve days later on February 27 at the age of 26. After having survived the war and German U-boats he was felled by illness. Hodder was also survived by his mother Margaret and three sisters. The funeral was held on March 3, and he was buried in Nanticoke Cemetery with military honors.
As his mother wrote to the normal school registrar, Francis Jenkins, the week after the funeral, "We are very grateful for the testimonials of sympathy expressed by so many normal school people and surely feel that my dear boy was thought well of by the folks at your institution. I know he was very happy while among you and I rejoice in the fact that in his short life there were the years at Bloomsburg Normal School."
---
Back to Student List
Updated 8/5/04