Gabriel L. Adams
Herndon, Northumberland County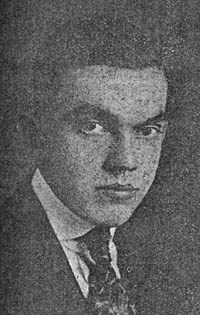 September 15, 1895 - September 28, 1918
---
Gabriel Adams was born in Jackson Township in Northumberland County, the son of Edwin C. and Alice Seville Adams of Herndon. He grew up in Herndon and helped out on the family farm. Gabriel entered the Bloomsburg State Normal School in September of 1910 at the age of 15 in the College Preparatory Program, and graduated in June of 1913. In an unfortunate twist of fate his roommate while at Bloomsburg, Maxwell Straub of Herndon, also died in the war.
After graduation Gabriel enrolled in Bucknell University and studied there for several years, but during his junior year had to leave school to help out at home. In May of 1918 he entered military service in Sunbury and trained at Camp Meade, Maryland, with Company M of the 314th Infantry, 79th Infantry Division. In July the company went to France for more training, and was finally sent to the trenches on the frontline in late September.
The company became part of one of the major drives of the war near the city of Verdun. What happened to Gabriel was communicated to his parents by a good army friend, James Snyder. Snyder wrote the letter several days later while recuperating at a base hospital. On September 28 they were involved in fighting all day, and that night dug into a hole for protection. But a German shell hit the trench, wounding Snyder and killing Gabriel. As James Snyder said about him in the letter, "You can always be proud of Gabe's army record as he was always loyal, faithful and friendly to everybody and always did his duty in a manly manner. I have missed him very much and share with you the grief you mourn for so noble a son and friend ..."
Although buried in France, a memorial marker was placed in the family plot in Herndon Cemetery, alongside which would be buried his father in 1920 and his mother in 1945. His family mourned Gabriel's loss: his parents, sister, and brother John. An intelligent, studious, and energetic young man with a bright future was gone, another terrible loss in a terrible war.
---
Back to Student List
Updated 8/25/03