Bloomsburg State Teachers College and the V-5s
The V-5 and V-12 programs left a mark on the campus of the BSTC that can be seen today in the name of Navy Hall and the way students dine on campus. Navy Hall was to be a junior high school at the time the V-5s arrived. Dining was also different for the V-5s when the first arrived, the students used to have a formal dinner every night served to them. With the V-5s and V-12s almost doubling the enrollment the college was forced to adapt and converted to a cafeteria type dining hall. The number of cadets the college had to accommodate also forced the college to make changes to the dorms on campus and add rooms wherever they had space available, a remodeling of Waller Hall took place to accommodate the cadets.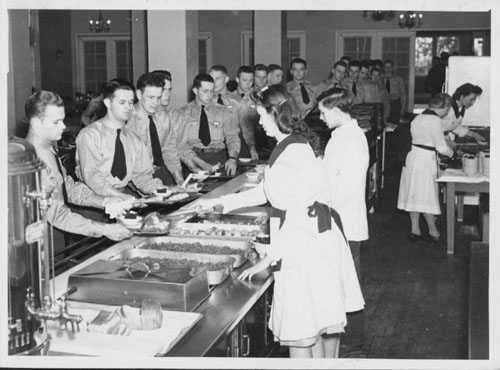 Cadets dine in the new cafeteria in Waller Hall, April 1944.
While the Navy and U.S. government paid for the structural changes to the college the V-5s contributed in their own ways to the school. The V-5s hosted a Happy Hour program that show cased their talents and entertained the faculty and students. In addition they also hosted dances on campus and put on demonstrations during homecoming and other events on campus.
Happy Hour Program March 18, 1943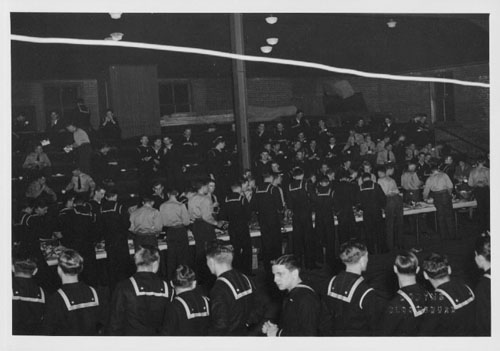 V-5 Christmas Party, hosted by Bell Telephone Company, December 1943.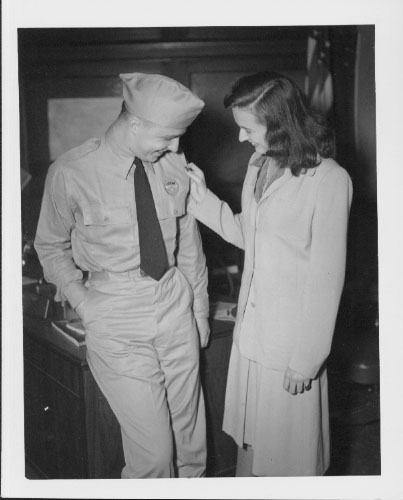 Unknown Cadet and female student, September 1942.
In addition the V-5s also helped to bring some national recognition to themselves and the BSTC. In March of 1943, national radio personality Fred Waring visited the BSTC to give recognition to the both school and V-5s and did a national broadcast from Bloomsburg.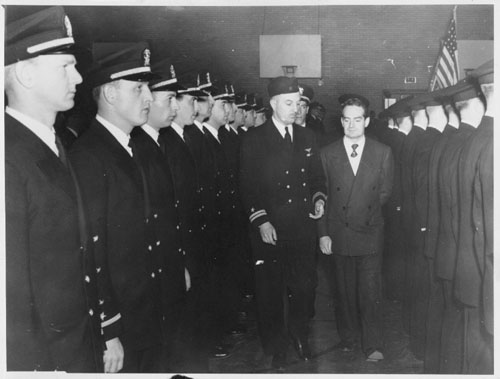 Lt. John R. Hoyt walks with Fred Waring while inspecting V-5 cadets on review, March 27, 1943.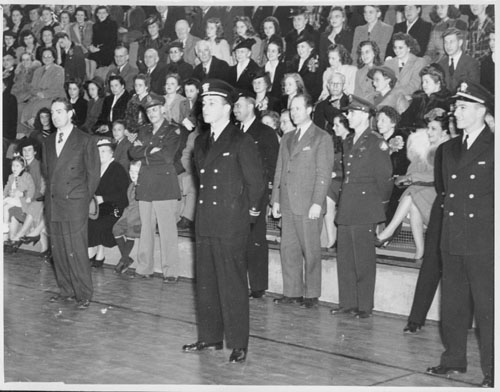 Fred Waring speaks to the crowd in Centennial Gym during a Navy review, March 27, 1943.
The college received recognition from the Navy as well for the V-5 and V-12 program in 1947 when a plaque commemorating the colleges contribution to the Navy was presented to the BSTC and President Andruss. The plaque can be found today on campus in the lobby of Carver Hall.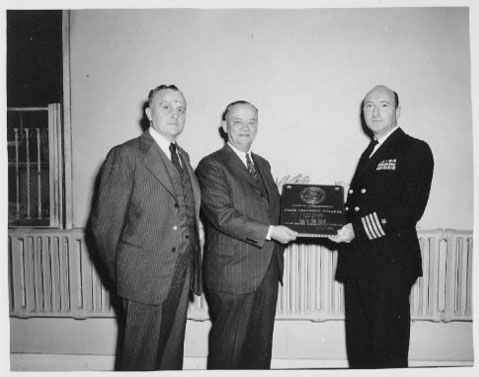 Navy Training Commemorative Plaque being presented to BSTC by Captain W. T. McGarry to Reginald Hemingway and President Andruss , October 25, 1947.
The plaque.
The Straight and Level / Home / The Aviation Cadets of Bloomsburg