Centennial Gymnasium
---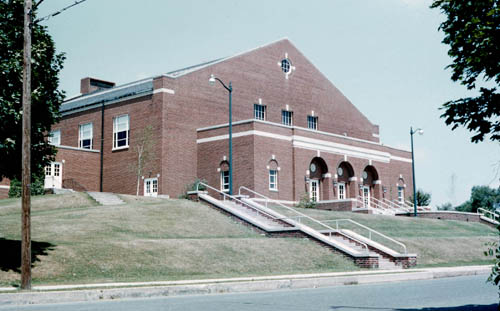 Centennial Gym in 1955.
---
The first campus gymnasium, which was built onto Waller Hall, opened in 1894 but by the early 1930s it was decided a new gym was needed. During the Depression the only money available for campus construction was from the Federal Government, and in 1937 funding was finally approved. The groundbreaking ceremony was held on January 19, 1938 and by the fall of 1939 the gym, designed by the architectural firm of Gondos & Gondos, was almost ready for the state teachers college's 100th anniversary celebration, all but the building's electrical system. It took over two years, but finally on February 27, 1942 the first event took place, a basketball game with West Chester won by Bloomsburg by a score of 44-40 before a crowd of over 1000. The dedication ceremony was held three months later on May 23, and the building was named Centennial Gymnasium to commemorate 100 years since the college's founding.

The gymnasium cost $300,000 and contained a large main gym with playing courts, two smaller auxiliary gyms, locker rooms, offices and classrooms for the Health Education Department, and the first swimming pool on campus. For 30 years Centennial served as the main campus athletic facility until the Nelson Field House opened in 1972. Centennial then continued to house classroom facilities and offices for health, physical education and athletics until the fall of 1999, when renovations began to remove the gym and swimming pool, replace them with classrooms and faculty offices, and add a total of 70,000 square feet to the facility. Dedicated on September 5, 2001 and renamed Centennial Hall, the building now houses the College of Liberal Arts, the Office of Graduate Studies and Research, and the departments of Anthropology, Audiology and Speech Pathology, and Exercise Science and Athletics, as well as the School of Health Sciences Wellness Institute, an adult fitness studio, and the Speech, Hearing & Language Clinic.