The Soviets are

Coming!


Soviets and Americans battling for wrestling supremacy, 1975.
---
(Click on either image for a larger picture.)
| | |
| --- | --- |
| | |
| As then chairman of the United States Olympic Wrestling Committee, Russ Houk was responsible for the Soviet team coming to Bloomsburg. This was one of the only four dual meets the Soviets participated in across the United States during their stay in the spring of 1975. | The Campus Voice covers the exhibition, April 17, 1975. |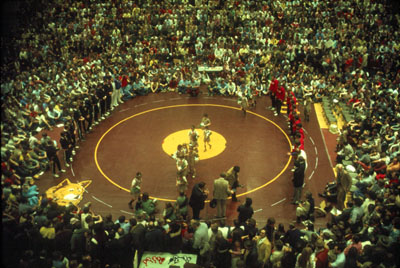 The opening ceremonies of the April 9, 1975 exhibition match in Nelson Field House,
which was packed to capacity with a crowd of more than 4000.
| | |
| --- | --- |
| | |
| The 1975 program cover. | United States wrestler and current head coach at the Ohio State University Russ Hellickson winning the 198 lb. match. It was one of only two victories for the U.S. team that day. Hellickson went on to win a silver medal at the 1976 Olympics in Montreal. |
---
Updated 1/19/05